3 Office Spaces at Leeds Train Station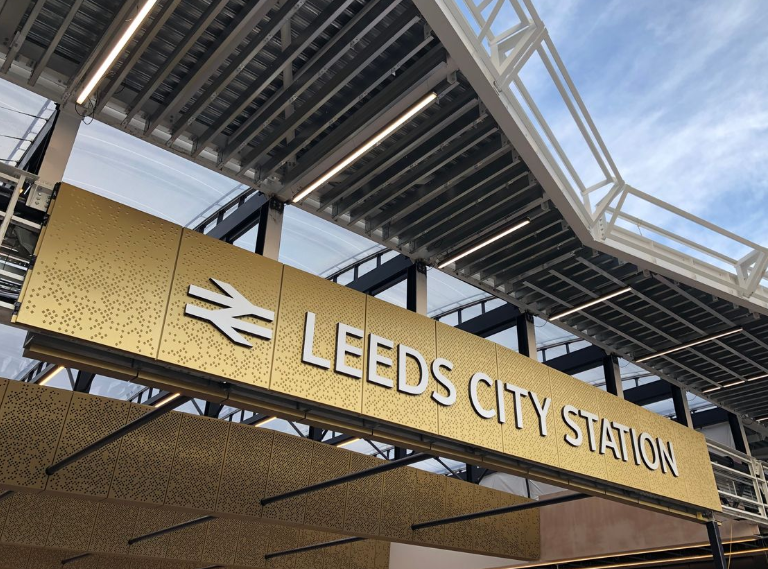 Leeds Train Station is undergoing a huge investment drive with £161m being pumped into the second busiest train station outside of London.
All this development means of course (we hope) better services, more money into Leeds City Centre and lots of happy commuters.
So why bother walking more than 2 minutes outside of the train station – what if you want to locate your business as close as possible to the station itself. Well, you can and you can be VERY close indeed.
Firstly, why would you want to be close to the station?
FOOD AND DRINK: The station provides everything you need from McDonalds, KFC and Subway to Boots and M&S. For coffee you have Starbucks, Pret and Costa.
EASY TO FIND: "Our office is above Leeds station"
ZERO WALKING: If you are one of the 100,000 users of Leeds station a day, you'll be at work with zero walking time.
Secondly, it's really nice
REDEVELOPMENT: The station is (as of Nov 2019) undergoing a huge investment drive meaning it's cleaner, lighter and nicer
GO ANYWHERE: London, Edinburgh, York, Manchester – there are lots and lots of trains
Offices within 1 minute walk of Leeds Train Station
If you're looking for office space in the bustling city centre of Leeds with excellent transport links, then look no further than Aire Street's serviced workplace.
These offices are less 'stuffy work environment' and more 'social spaces' with quirky furnishings and comfortable places to sit. The office is move-in ready, so your business can hit the ground running.
You'll benefit from an outside roof terrace (with 360-degree views) which is a perfect place to wow your clients after a meeting. There's also a communal lounge, reception area, focus booths, and showers for a quick refresh.
And the best part? Even if you're travelling in from outside the city, this office is situated just outside Leeds Train Station at the end of the large concourse area, perfect for commuters and businesses with long-distance clients.
Platform is a new office space in Leeds city centre that is ideal for commuters. Located above the train station, access is amazing.
With a choice of 42 studio offices and a number of co-working spaces, there is something to suit everyone's needs. Whether you need an office for yourself, your wider team or for your remote co-workers to meet clients or collaborate together, Platform is ideal for businesses struggling to find something central and easy for everyone to reach.
Free workspace Wednesdays mean you can even try out the spaces for free for a day. Note: Platform is strictly a "tech only" office, so you need to operate in tech to find space there. It's worth considering Aire Street if you are "non-tech"
Situated in a prime location next to Leeds train station, Princes Exchange offers the ideal office space for city centre workers in a contemporary, stylish building.
Housed in Exchange Square next to the Leeds financial district, with stunning views over the River Aire, you are in the heart of the bustling city, with easy access to all the local amenities, attractions, restaurants, bars and transport links.
The fully serviced offices on the ground, first and second floors benefit from a host of facilities and amenities, including a modern cyber café, five modern meeting rooms seating up to 12 people, secure underground parking and a videoconferencing studio.
You can also take advantage of the recreation area and refreshments on offer.
If you are looking for office space within or close to Leeds Station, please call 0113 347 2550 or email info@offices.co.uk – we can put together a few options for you and arrange viewings very easily.