Sheraton House

, Cambridge

Great Value Small Office Space in Cambridge - Private Offices, Car Parking & a Friendly Team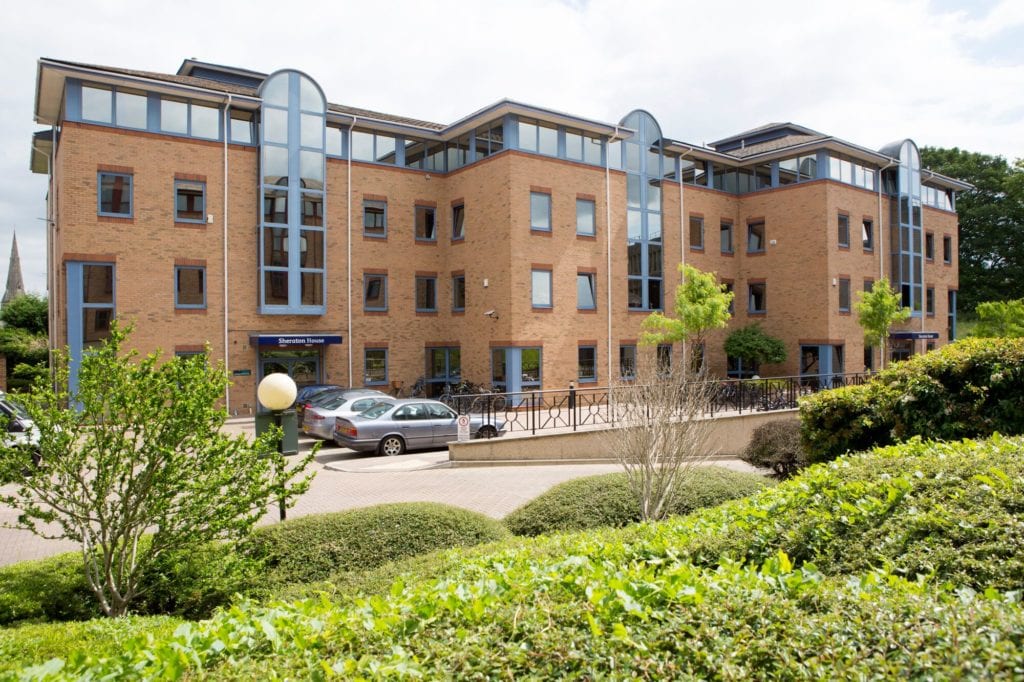 Located on a small business park just 15 minutes walk from Cambridge, Sheraton House is a great starting point for any business looking to get established in this amazing city.
Sheraton House offers small private office spaces with a host of business admin services any growing business would need.
Flexible, affordable short term office spaces
Business admin services like printing, phone answering and more
Super fast internet as standard
Car Parking – please call for pricing and availabilty
Garden
Availability at Sheraton House
Size
Sq Ft
Price Per Month
Availability
Viewings
1 desk

0

£400

GBP

Now
Book a viewing
2 desks

0

£800

GBP

Now
Book a viewing
3 desks

0

£1,200

GBP

Now
Book a viewing
4 desks

0

£1,600

GBP

Now
Book a viewing
5 desks

0

£2,000

GBP

Now
Book a viewing
6 desks

0

£2,400

GBP

Now
Book a viewing
9 desks

0

£3,600

GBP

Now
Book a viewing
12 desks

0

£4,800

GBP

Now
Book a viewing
14 desks

0

£5,600

GBP

Now
Book a viewing
16 desks

0

£6,400

GBP

Now
Book a viewing
18 desks

0

£7,200

GBP

Now
Book a viewing
32 desks
32
£12,800

GBP

Now
Book a viewing
94 desks

0

£37,600

GBP

Now
Book a viewing
CB020 – Last Updated: Tuesday 27th August 2019
Office location & transport links
Office Address:
Sheraton House, Castle Park, Cambridge, CB3 0AX
Cambridge Station (38 Minute Walk)
Car Parking on site (Call for pricing & availability)
Cambridge International Airport (18 Minute drive)
Facilities available
Events Spaces
Meeting Rooms
Office Spaces
Virtual Office Addresses
24 Hour Access
Mixing the historic and beautiful city of Cambridge with the rural landscapes surrounding it, Sheraton House is in an ideal location for someone who enjoys a blend of city culture with nature.
The four-storey building, set on an easily accessible, small business park, is certain to impress your staff, customers and visitors from the first instance.
Upon their arrival, customers and visitors will enter into a modern, stylish reception that has recently been re-designed. Welcoming them will be the warm and hospitable Sheraton House Concierge team – as well as being the first face to meet your guests, our team are at your disposal to answer calls, organise meetings, book taxis and recommend local restaurants.
With a number of affordable, smart meeting rooms, we've got the perfect space for you to host meetings of any kind. In addition to this, all our office suites are fully furnished and include state of the art internet and phone packages with superfast internet.
If you or your staff prefer to work as individuals, the addition of myPODs provides a unique workspace for working alone.
Sheraton House has plenty of parking available for both cars and bicycles. The centre lies in close proximity to the City centre (11 minutes drive) and, with shower rooms available on our site, you'll be able to commute to work in an environmentally friendly manner.