HURST deal hints at bright future for Manchester's office market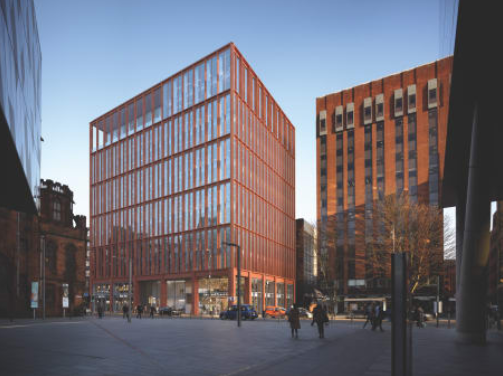 A recently agreed deal with major accounting and business services firm HURST, which will see them take co-working office space on the third floor of 125 Deansgate, is a sign of greater things to come for Manchester, as the city is poised to grow as a hub for 'northshoring' in the near future.
"The big post-Covid trend is the move North, to regional cities which provide cheaper office space and the opportunity to tap into specialist jobs markets – Manchester is set to benefit greatly from this trend"

Jonathan Ratcliffe from Manchester Office Space Agency Offices.co.uk
HURST are just one of many large, London-centric organisations to have made partial or total moves to the north of England in recent years: joining the BBC; ITV Granada; Channel 4; London law firm Freshfields and global e-commerce giant Amazon in large northern cities.
Lower rents, bigger spaces
Spurred by lower rents for superior office space in more central locations, as well as less reliance on London offices for doing business thanks to remote working, Manchester is seen as an ideal destination for large corporations looking for better value real estate due to its excellent transport links and homegrown skills base.
While other northern cities such as Leeds and Liverpool are also succeeding in attracting new corporate tenants, Manchester is perfectly placed as a destination thanks to its extremely diverse and range of office space in and around the city centre. As a result of sustained investment in facilities, Manchester can boast an excellent variety of Grade A office space that can suit any type of large corporate business, from high specification serviced office space to less traditional co-working venues. As well as the quality and variety of the facilities, large corporates can benefit from access to city centre locations and transport links that would be prohibitively expensive in the capital at a fraction of the cost, as well as links with world-class educational institutions right on the doorstep.
Bye bye London
Named for the offshoring trend in the 1980s and 1990s that saw corporations move facilities to developing markets like China and Singapore in search of better value, 'northshoring' promises to bring a welcome boost to Manchester too, in the form of better job opportunities and higher salaries for local workers.
A direct result of this is trickle down investment in local facilities for the benefit of incoming workers and locals, such as the well-known development of the Salford Quays area, which has seen many thriving restaurants and bars come to the area following the establishment of Media City. Similarly, tertiary services in the local area such as legal and financial businesses all the way to taxi companies and office supply firms benefit from the increased investment in local services that large corporates bring.
"As a Northern business we are very excited by the northshoring trend, it's ability to add new jobs, income and other economic benefits are huge – we hope to welcome more London clients to Manchester soon"

Jonathan Ratcliffe from Offices.co.uk