The 5 Best Serviced Offices in Leeds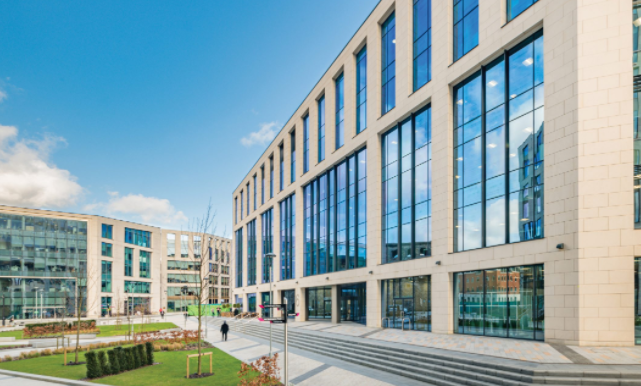 Often considered the beating heart of Yorkshire, Leeds is the perfect spot for business leaders on the hunt for dynamic office space in northern England. As well as being one of the fastest-growing cities in the UK, Leeds is ripe with opportunities for business growth thanks to its excellent transport links, dynamic start-up culture and diverse population.
If you need help finding a serviced office perfectly designed to make your business ambitions a reality, we've listed a few of the very best right here:
6 Wellington Place, Leeds
6 Wellington Place in Leeds is a stunning office space situated in the heart of the city centre. Featuring incredible panoramic views, it makes coming into the office truly worthwhile.
Situated in a unique building with inspired architecture, 6 Wellington Place is the perfect office space to inspire your work and impress your clients. The building is state-of-the-art, with top energy ratings and a gorgeously designed atrium.
What's more, you're situated in the heart of Leeds' thriving city centre and a few minutes away from major transport links.
• 24/7 building access
• Secure, super-fast internet
• Inclusive Barista coffee and tea
• Free beer tap – 2-4.30pm daily draught beers
• Professional front desk service
• Versatile common areas
• Daily cleaners
• On-site community managers
• Office supplies provided
One Park Row, Leeds City Centre
Kitted out with gorgeous interiors and premium levels of service, One Park Row is the go-to building for up-and-coming business stars in Leeds. Professionals lucky enough to work in these offices can enjoy a range of spacious private office suites designed to aid deep concentration, as well as beautiful meeting rooms for hosting important clients and a Club Lounge area perfect for those moments of much-needed downtime.
If that weren't enough to convince you, One Park Row is conveniently positioned a mere one-minute walk away from Leeds Train Station and two minutes away from Trinity Centre Car Park.
Nearby Park Row also offers plenty of bus stops ready to whisk workers home after a hard day's graft.
Park Row, Leeds City Centre
If you're keen on Park Row's enviable central location, our Park Row office space is another gorgeous building sure to impress your clients and employees alike. Unlike One Park Row, this serviced office space is almost brand new, boasting dynamic interiors designed for modern working.
Indeed, it offers an array of flexible options to suit your business including short and long office terms, hot-desking and co-working areas, and a number of private suites of different sizes.
It also features a café/bar stocked with delicious treats to keep you fuelled throughout the day and an array of luxurious amenities including a gym, high-speed internet, air conditioning, bike storage, and showers.
Aire Street, Leeds Train Station
Fans of art deco style will be unable to resist Aire Street. Comprising part of the recently refurbished Leeds Station complex, this set of offices combines modern office interiors with gorgeous art deco flourishes.
Thanks to its location, it is also very well-placed for professionals who need to travel around on a regular basis as it forms part of Leeds Train Station. Special features include a comfortable roof terrace, phone booths, hot-desking areas, private serviced spaces, and an area for bike storage.
St Paul's House, Park Square, Leeds
Situated right next to Park Square, one of the most scenic urban areas in the centre of Leeds, St Paul's House is a great choice for business professionals who appreciate the atmosphere of city life.
The office itself has only recently been refurbished and offers an array of minimalist interiors to help aid creativity and intelligent thinking. It is also a short walk away from Leeds Train Station and includes plenty of great features including break-out spaces, free Wi-Fi for visitors, and a highly efficient reception area.
Call our Leeds office for advice, pricing, availability and to book viewings on 0113 347 0390