The Best 5 Serviced Offices in Soho
Bustling, stylish, and easy to get to from most parts of London, Soho is the prime office location for up and coming businesses.
If you and your colleagues are keen to settle somewhere in this famous entertainment district, you'll be pleased to hear there are plenty of high-end serviced offices available in Soho at the moment.
To save you the trouble of finding them, we've put together a list of the very best.
151 Wardour Street, Soho
Renowned for its thriving music scene and links to the film industry, Wardour Street is the perfect office spot for companies involved in the arts sectors. As well as providing plenty of inspiration for creative pursuits, 151 Wardour Street is only a brief stroll from major tube stations including Piccadilly Circus, Leicester Square, Tottenham Court Road and Oxford Circus – great news if your team members need to travel to work on a variety of tube lines.
The building itself offers gorgeous black and red interiors, ample private office space, and five meeting rooms. It is also replete with helpful amenities such as a bike storage area, changing rooms, and showers. What's not to love?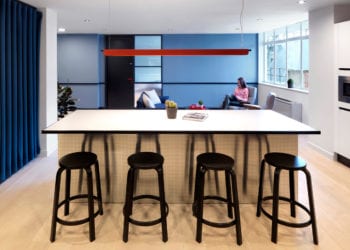 30 Broadwick Street, Soho
If you need expansive, airy office spaces to get your business brain into gear, look no further than 30 Broadwick Street. This futuristic, architectural wonder has plenty to recommend it including stylish meeting rooms, cutting-edge technologies, a beautiful terrace, and all of the amenities you need to make your work life as comfortable as possible.
If all of that weren't enough, it is scandalously easy to get to thanks to its proximity to three major tube stations: Oxford Circus, Tottenham Court Road, and Piccadilly Circus.
33 Broadwick Street, Soho
If 30 Broadwick Street isn't quite to your architectural tastes, take a few steps down the road to 33 Broadwick Street. Here, you will find office spaces fit for young, motivated employees unafraid to blur the distinction between work and play. On the lower ground floor, for example, you will find a breath-taking video wall and seductive bar area, perfect for a few after-work tipples and a great space for discussing new ideas.
Move up the to roof terrace, and you will be confronted with amazing views of the capital to help spark your creative capacities. If you need any more convincing, there are even three podcast recording studios to help you disseminate your big ideas and business ventures to a wider audience.
Soho Square, Soho
These Soho Square offices are on the cheaper end of the price spectrum, making them a great option for start-ups looking to grow their influence and profits over the next few years. Fortunately, a modest budget does not mean that you have to compromise on style or space.
Carefully designed to fit in with Soho's stylish vibes and featuring plenty of break-out spaces for networking, these Soho Square offices represent the perfect solution for young professionals looking to break out into the media industry.
Lower John Steet, Soho
If period architecture is more your thing, this Edwardian building on Lower John Street will be right up your alley. Boasting elegant interiors and only a few steps away from some of Soho's best theatres, Lower John Street is an excellent choice for thespians and creative types hoping to impress clientele.
Even better, it offers excellent transport links and can be reached on foot from some of London's most prestigious districts including Mayfair and Hyde Park.
Viewings of all or any of the listed offices can be booked on 020 3151 3360