TOP 5 Serviced Offices in Manchester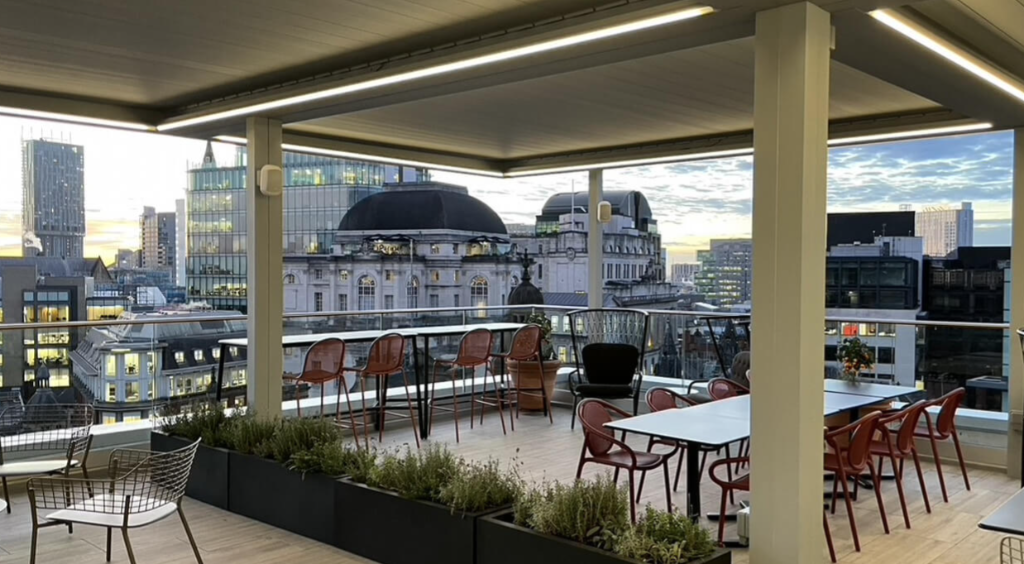 Manchester is gifted with nearly one hundred serviced offices, but not all reach or high standard. New buildings are appearing almost monthly, so this page is dedicated to the Top 5 Serviced Offices in Manchester. Granted each is very different, but every building below has something pretty special – if you'd like more information we are just a phone call away!
NUMBER 1 – 11 York Street, Manchester
Opening in March 2023 – 11 York Street is a brand new, modern and Grade A serviced office building with furnishings and services like no other!
Quite frankly, nothing like this exists in Manchester. The building with it's gold accents, Grade A fitout and plush furnishings is more like a hotel then an office. The friendly and efficient reception team look after you as a guest as well as a tenant – providing hotel concierge levels of service.
The building has a superb roof terrace, large open plan club lounge areas and board rooms.
If you fancy a look around, call 0800 611 8150
---
NUMBER 2 – Bonded Warehouse, Lower Byrom Street, Manchester
Bonded Warehouse is one of the premier office spaces in Manchester, providing a rustic atmosphere with classic warehouse charm in an old bonded warehouse (of course).
This fully-serviced office provides everything a flexible business could need, from hotdesking opportunities to private studios for businesses looking to explore their potential in a more quiet and personal environment. With 24/7 access, bike storage facilities and high-speed internet, members can make use of countless features.
In addition to offering all of the practicality you could ever need as an organisation, Bonded Warehouse has plenty of social and wellbeing facilities on offer too. The coffee shop is the ideal place to socialise with other members or even host client meetings, and the gym is the perfect place to escape to after a long and stressful day.
For an environment that will get the most out of your employees, book a viewing at Bonded Warehouse in Manchester by calling our team on 0800 611 8150
---
NUMBER 3 – Linley House, Manchester
Do you need a workspace with a city centre location, a wealth of useful onsite amenities, and one that looks great too? Say hello to Linley House. This beautifully designed space was once a power station lighting up the whole city. Now, the eight-floor building serves up a range of stylish and flexible office space solutions to deliver everything you could wish for and so much more. It's no wonder it's #2 of our top five serviced offices in Manchester.
With dedicated desks, private offices, meeting rooms and more, this vibrant space has something for everyone. As well as 24-hour access, the high speed and secure internet you'd expect and high-quality finishes throughout, you'll also find meeting areas, a podcast room, comfortable breakout areas and club lounges.
The location is ideal for commuting too, and you'll benefit from the city centre being right outside your door with all the restaurants, cafes, bars and shops you could ever need.
---
NUMBER 4 – Arkwright House, Manchester
(Maybe the nicest smelling office in Manchester? Call us to book a smell test!)
Are you looking for a serviced office that makes your daily commute a breeze, but also one that looks great? Are you craving green space as well as a multitude of local amenities on your doorstep? Arkwright House will tick all your boxes and more.
Located in a stunning Grade 2 listed building, overlooking lush green space in a conservation area, this bright, airy workspace is as beautiful as it is practical. Flexible solutions with more desk space and excellent soundproofing are ready to work the way you need them to.
The location is ideal no matter how you plan to commute. Arkwright House is just an 11-minute walk from Victoria station or 15 minutes from Piccadilly. If you're coming by car, the M62 and the M56 are only a 25-minute drive away with a car park next door, and if you prefer to take the bus, there are numerous local routes that are easily accessible as well.
Plus of course, you'll have all the local shops, cafes and bars on your doorstep too.
---
NUMBER 5 – Landmark St. Peter's Square
Whether you need an office just for yourself, or something bigger for you and your team to grow into, you're bound to find a suitable space at Landmark in St Peter's Square. This eye-catching, contemporary building makes a stylish statement that your business can be proud of. And it's just as beautiful and functional on the inside too.
You'll benefit from a whole host of onsite amenities. Start your day at the breakfast and craft coffee shop for that vital caffeine hit, make use of the wellness room, or check out the community events. Of course, the basics are all taken care of too – office supplies, secure, fast WiFi and even mail services, all designed to help you do your best work.
The location is ideal whether you're commuting by train, tram, cycling and using the bike storage facilities, or even driving and making use of the electric car charging stations. The Landmark building is a dream come true to help your business flourish.
---
If you fancy a look around all our TOP 5 – complete the form below, we will check availability and advise on pricing, we can them book tours of the suitable options – call 0800 611 8150