TOP 5 Serviced Offices Leeds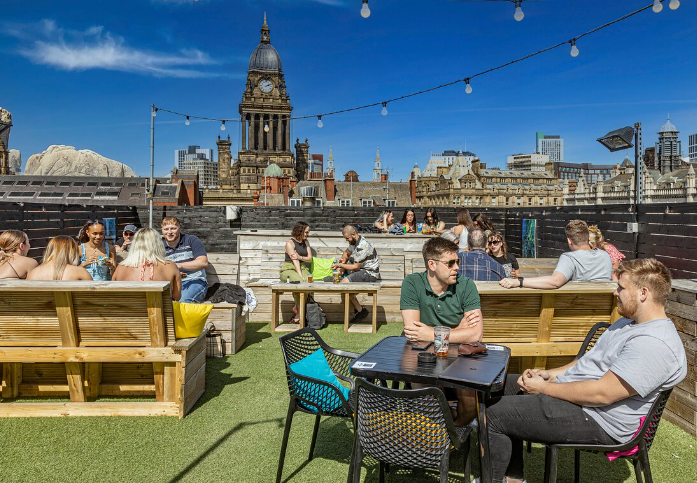 With over 50 serviced office buildings in Leeds, whittling the list down to just 5 is a tough job, that said we get great feedback from a core group of buildings, and here they are!
Remember if you would like pricing and availability just email info@offices.co.uk or call 0800 611 8150
No.1 – 10-12 East Parade, Leeds
Rated the number one serviced office in Leeds, this eye-catching historical building offers all the amenities you need to run a successful and stress-free business. Work in luxury over five floors while enjoying the convenience of city centre life and the accessibility that comes with it.
On site, this property boasts high-end meeting, board, and conference rooms, perfect for making a great impression when hosting clients. For unwinding and catching up with colleagues, these offices provide both a social club on-site and a rooftop bar with panoramic views of Leeds town hall.
Benefiting from the central location means accessibility is never an issue. Local transport is never further than a mile away, with the well-connected Leeds train station only a relaxed ten-minute walk. On-site parking ensures your business won't suffer from overcrowding in the city, too.
Be it a social working venue or a thriving city centre business hub, East Parade can cater in style.
---
No.2 – 6 Wellington Place, Leeds
6 Wellington Place opened in February 2022 and has already ranked as #2 of our top five serviced offices in Leeds. Offering a one-of-a-kind working experience, this high-quality building is filled with beautiful features, including an airy central atrium, secure parking, stunning common areas, and super-fast, extra secure internet.
No matter your needs, Cubo fulfils them. Whether you are seeking a designated desk, are looking for hot desks, or want an entire floor dedicated to your company, you'll find it in this landmark building. Easily accessible via transport links, 6 Wellington place is much more than just an office – use it for networking and social events as well!
Located right in the heart of a vibrant city, 6 Wellington Place provides a creative, adaptive office space that you can tailor to suit your needs. Providing office supplies, private phone booths, 24/7 building access, daily cleaning, delicious tea and coffee as well as alcoholic beverages, 6 Wellington Place includes everything you could need for a stimulating office experience.
---
No.3 – 7 Park Row, Leeds
At number 3 on our list of the top 5 serviced offices in Leeds is 7 Park Row. It occupies this spot due to its flexible workspaces, including virtual offices for remote working, well-sized individual desks for freelancers and meeting rooms that are amply equipped for collaborative working.
The architecture is marked by raised ceilings and floors and contemporary glass walls that will impress and inspire team members with city-wide views of Leeds, offering natural lighting and airiness. To help boost productivity, there is an on-site gym and fitness room with showers. Well-being is also at the forefront with bicycle storage for active commuters.
There is also an on-site sandwich and coffee bar, meaning employees don't need to venture far for their caffeine hit. However, should they want to explore the area, Park Row is located in Leeds city centre, so all local amenities, transport links and landmarks are easily accessible.
---
No.4 – Bank House, Leeds
Bank House is number 4 on our list of top 5 serviced offices in Leeds and it's easy to see why – it has an extensive list of member benefits, including flexible contracts, hospitality services, admin support, super-fast WIFI and fully stocked refreshments.
Alongside these, members can choose between fully-functional and ergonomic workspaces, such as large desks and break-out spaces as well as quiet working areas. This makes it ideal for a variety of teams, with the flexibility to suit each employee's individual needs.
This is all housed in a beautiful Grade II listed building that offers a unique working space which encourages creativity, with minimalist design and greenery abound. Located at the heart of Leeds city centre and only a five-minute walk away from Leeds Station, the location could hardly be more convenient for the busy professional.
---
No.4 – Yorkshire House, (Greek Street) Leeds
Centrally located, Yorkshire House provides 24/7 access to stunning workspaces, ideally located within a five-minute walk from the train station and in the heart of one of the best areas for food, drinks and culture.
Superbly renovated and retaining the original Modernist architecture, Yorkshire House has been updated with a contemporary, stylish design that optimises natural light and energy-efficient LED lighting. There are four meeting rooms available to book, each for up to 15 guests.
A variety of membership options are available, starting with day pass access to a lounge-style space and the Club Lounge hot desk area, suitable for entrepreneurs or freelancers. Other options include dedicated desks with lockable storage and private offices suitable for small teams. All are complete with the latest technology and high-speed Wi-Fi.
Facilities include onsite parking, bike storage and kitchens exclusively for members' use. The Two Hands onsite artisan coffee shop serves drinks plus nutritional hot and cold food, so you can stay fuelled throughout the day.