One Canada Square

, Canary Wharf

Designer Serviced Office Space in an iconic building 3 minutes walk from Canary Wharf tube station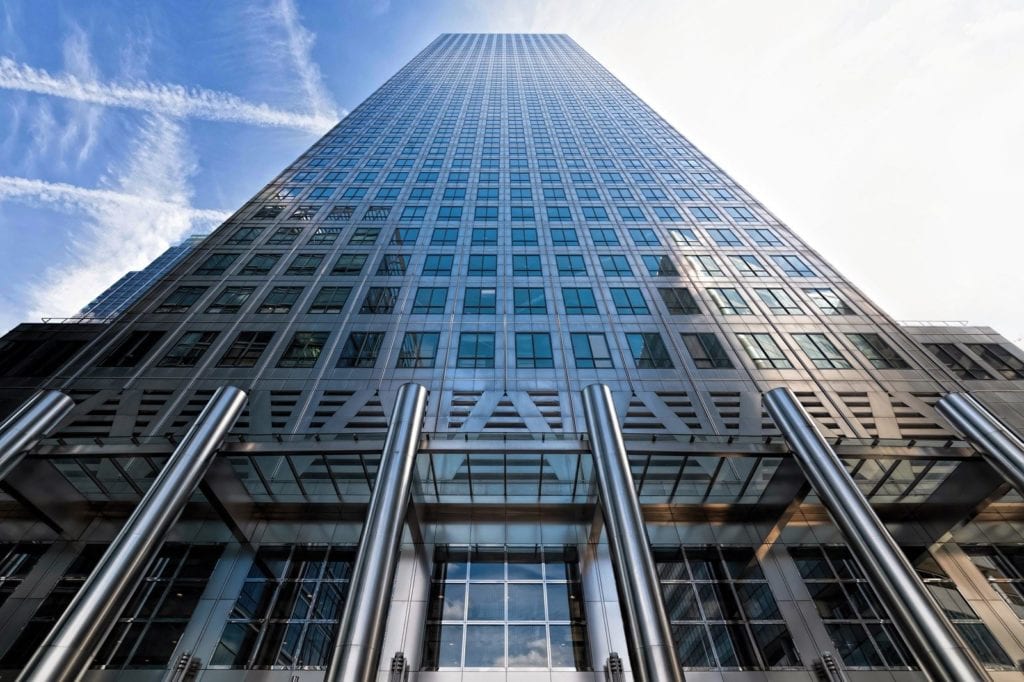 If you're looking for office space with one of the most famous addresses in the UK, you've come to the right place. Dominating the east London skyline with its pyramid roof and 50 storeys, only The Shard is taller than One Canada Square.
Housing more companies and professionals than you'll know what to do with, this is the ultimate in workplaces east of the capital's centre. With the prospect of Crossrail, individuals are now more eager than ever to be a part of this iconic building, sharing office space with renowned businesses and larger companies. Exceptional meeting and conference facilities keep the community going all year round.
Exceptional UK business address

Iconic building

Huge local demand

Short walk from Canary Wharf tube station

Conference facilities &

Meeting rooms

Private office suites available
Viewing is a must in this exceptional space – Call the team on 0800 611 8150
Availability at One Canada Square
Size
Sq Ft
Price Per Month
Availability
Viewings
2 desks

0

£2,150

GBP

Now
Book a viewing
3 desks

0

£2,320

GBP

Now
Book a viewing
3 desks

0

£2,171

GBP

Now
Book a viewing
4 desks

0

£3,000

GBP

Now
Book a viewing
5 desks

0

£3,700

GBP

Now
Book a viewing
6 desks

0

£4,560

GBP

Now
Book a viewing
6 desks

0

£5,750

GBP

Now
Book a viewing
6 desks

0

£4,449

GBP

Now
Book a viewing
7 desks

0

£5,790

GBP

Now
Book a viewing
8 desks

0

£7,040

GBP

Now
Book a viewing
8 desks

0

£6,930

GBP

Now
Book a viewing
8 desks

0

£5,850

GBP

Now
Book a viewing
10 desks

0

£5,535

GBP

Now
Book a viewing
12 desks

0

£9,670

GBP

Now
Book a viewing
13 desks

0

£9,650

GBP

Now
Book a viewing
14 desks

0

£9,510

GBP

Now
Book a viewing
15 desks

0

£12,580

GBP

Now
Book a viewing
16 desks

0

£11,625

GBP

Now
Book a viewing
16 desks

0

£11,750

GBP

Now
Book a viewing
18 desks

0

£12,550

GBP

Now
Book a viewing
20 desks

0

£13,670

GBP

Now
Book a viewing
20 desks

0

£14,755

GBP

Now
Book a viewing
21 desks

0

£13,240

GBP

Now
Book a viewing
24 desks

0

£15,685

GBP

Now
Book a viewing
26 desks

0

£17,155

GBP

Now
Book a viewing
32 desks

0

£23,100

GBP

Now
Book a viewing
34 desks

0

£23,150

GBP

Now
Book a viewing
36 desks

0

£33,450

GBP

Now
Book a viewing
39 desks

0

£29,270

GBP

Now
Book a viewing
42 desks

0

£25,280

GBP

Now
Book a viewing
57 desks

0

£57,000

GBP

Now
Book a viewing
73 desks

0

£57,000

GBP

Now
Book a viewing
107 desks

0

£93,000

GBP

Now
Book a viewing
110 desks

0

£93,000

GBP

Now
Book a viewing
OG010 – Last Updated: Friday 11th October 2019
Office location & transport links
Office Address:
One Canada Square, ., Canary Wharf, E14 7QT
Canary Wharf Station, Canary Wharf (3 Minutes Walk)
Facilities available
Coworking Spaces
Events Spaces
Meeting Rooms
Office Spaces
Virtual Office Addresses
24 Hour Access
Air Conditioning
Cafe/Bar
Call Answering
CCTV Security
City/Town Centre
Disabled Facilities
Furnished Offices
High Speed Internet
Kitchen Facility
Mail Collection/Forwarding
Office Cleaning
On-Site Management
Recycling Facilities
Showers
Staffed Reception
Toilets