TOP 5 Serviced Offices Cardiff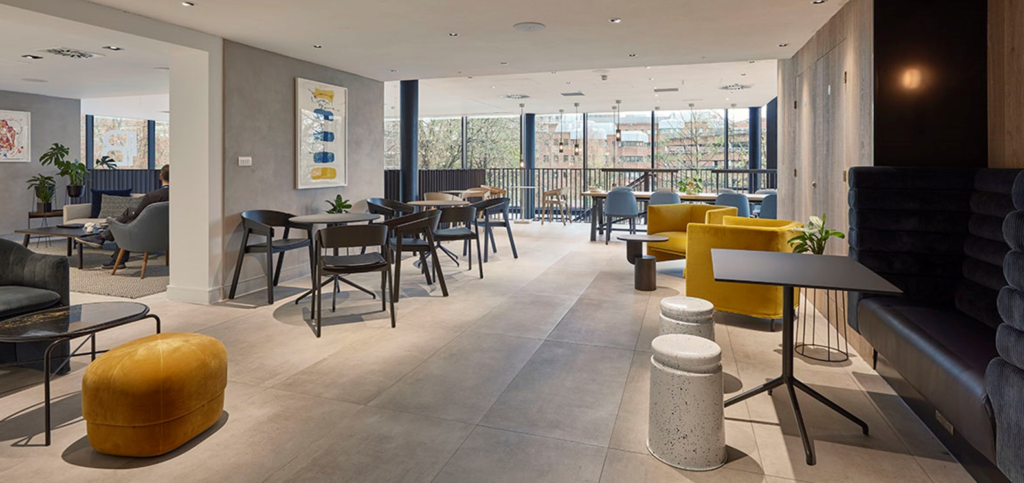 Hand picked for you – Our TOP 5 Serviced Offices in Cardiff give the best flexible office space in Cardiff at the best prices
NUMBER 1 – Ground & 1st Floor – Brunel House, Cardiff
Rated "Number 1" serviced office in Cardiff, Clockwise is based on the ground floor of Brunel house, in the bustling city centre of Cardiff.
Brunel House is one of the biggest office buildings in the city and provides ample space, natural lighting and wonderful views of the city, including the beautiful Cardiff Bay.
The newly refurbished ground floor includes a crèche, showers, bike storage and on site parking with 126 parking spaces, as well as a Kin and Ilk café. The office has 4 meeting rooms, several event spaces and a carefully considered design to support a variety of different working patterns.
Additionally, there is spaces where you can take a break or mingle, or even just carry out your business in a more casual setting, including break out areas, kitchenettes and the club lounges.
Clockwise is a perfect serviced office for anyone from individual workers to budding entrepreneurs to small and medium enterprises and more. Get a viewing booked in today on 0800 611 8150
---
NUMBER 2 – C12, 12 Cathedral Road, Cardiff
Sleek, stylish, and slickly finished, these modern office suites provide the perfect home for any blossoming business.
Nestled near the bustling boroughs of central Cardiff, these suites boast views of historic Cathedral Road.
With a range of cafes, coffee shops, and multi-cultural cuisines all on your doorstep, your workforce has the perfect place to refuel and re-energise.
12 Cathedral Road benefits from a range of elegantly designed meeting rooms that can be booked as needed – all of which are kitted out with the latest in modern technology.
With a variety of suite sizes available fitting one to 180 people, your office needs will be met, whether you're a one-person band or whether you need an entire workforce to get the job done.
All of this is just a mile from Cardiff Central Train Station and the Central Bus Terminal, meaning wherever you're coming from, you're going to the right place.
---
NUMBER 3 – W2, Wellington House, Cardiff
The best office spaces facilitate collaboration, creativity and productivity – and that's exactly what W2 in Wellington House has to offer. Recognised as one of the top five serviced offices in Cardiff, Wellington House is renowned for its state-of-the-art technology and contemporary suites, business lounge, breakout spaces and conference rooms.
Some premium features of W2, Wellington House include a VOIP phone system, personalised intercom systems, CCTV and security, dedicated bandwidth options, and much more. The central location in Canton also means that businesses can benefit from several bus and rail transport links and a 10-minute walk to the city centre.
With suite sizes suitable for 2 to 160 people, W2 can accommodate all meeting and conference requirements. When you couple this with the building's premium fit-out, 24/7 access, on-site parking and storage facilities, there's no reason to doubt why it takes the top five list for serviced offices.
---
NUMBER 4 – Capital Tower, Cardiff
Modern, ready-furnished office spaces are hard to come by nowadays. Yet, centred in the heart of Cardiff, the Capital Tower Business Centre has become renowned for its vibrant working environment and top amenities.
Capital Tower Business Centre was recently selected as one of the top five serviced offices in Cardiff – owing to its stunning entrance, on-site parking, and premium conference rooms. The centre offers suite sizes for anywhere between two and 125 people, making it a great location for businesses looking to scale up their operations.
This prominent office building benefits from natural light levels which pave the way for a productive working environment. The centre caters to all business needs, with its fully-inclusive monthly charge including furniture, high-speed internet connection to every desk, and telephony. Some other key features include 24-hour manned security, air conditioning, high-speed management control lifts, and suspended ceilings.
Just a 10-minute walk from Cardiff Central, Capital Tower Business Centre is located in the business hub of the city. For a serviced office space that combines both form and function, choose Capital Tower Business Centre.
---
NUMBER 5 – Castle Court, Cardiff
Cardiff Castle Court is a boutique serviced office space located just 10 minutes' walk from the train station, making it one of the most desirable locations in the city centre.
What makes Cardiff Castle Court stand out is its accessibility – it's open 24/7, so employees can make full use of all the facilities on offer, whenever they need them. From secure bicycle parking and showers to high-speed internet, Cardiff Castle Court is perfect for a company looking to attract its employees back into the office.
Cardiff Castle Court also offers hotdesking opportunities, which are perfect for freelancers or those who are self-employed. The use of private meeting spaces is perfect for companies looking for more privacy and inviting breakout rooms mean that staff have a casual space to relax during lunch. For companies looking to foster business growth, Cardiff Castle Court is the perfect space.
Don't be shy. Why not view our TOP 5 Serviced Offices in Cardiff in one go – hit "Book a Viewing" or give us a call, we will provide live availability and organise tours of suitable space for you – Call 0800 611 8150